Art House Productions to host JC Fridays, the city's free quarterly arts festival, on December 3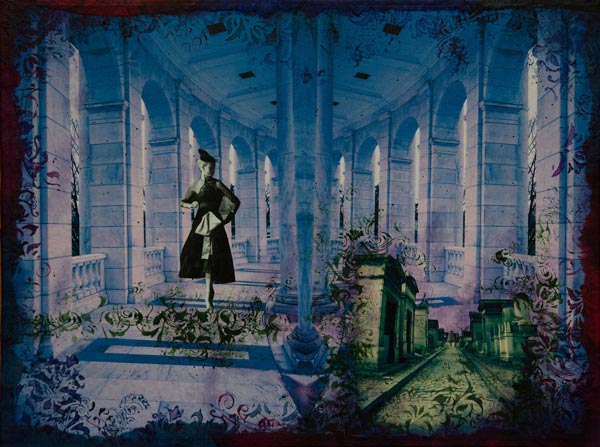 NEW | CHARACTERISTICS | OVERVIEW | EVENTS
originally published: 11/28/2021
(JERSEY CITY, NJ) – Art House Productions will host JC Fridays on Friday, December 3. Jersey City's first quarterly arts festival will feature a variety of events, including visual art exhibitions, artist / designer markets, and studio tours of 19 participating artists, businesses and organizations. Full event descriptions and event map are available at www.jcfridays.com.
JC Fridays is a seasonal multi-arts festival featuring arts events that take place in restaurants, galleries, shops, and event spaces in nearly every neighborhood in Jersey City. All events are free and open to the public. As one of the preeminent artistic scenes in the Tri-State area, Jersey City is teeming with visual artists and performers of all types, musicians and individuals with unique talents; JC Fridays is one of the best times for them to share their latest projects and work.
Printable event lists can be found here. Art House Productions is committed to accessibility and inclusiveness in all public programming presented by our organization. A list of wheelchair accessible events can be found here.
If you have any questions about the site's COVID-19 security protocols, please contact the hosts directly. Art House encourages all guests to follow all CDC guidelines and adhere to the requirements of each event.
JC Fridays is a free art festival across Jersey City, New Jersey presented by Art house productions. It takes place four times a year at the start of each season: March, June, September and December.
Advertise with New Jersey Stage for $ 50 to $ 100 per month, click here for more information
---
List of JC Fridays events – December 3, 2021
Vegan AF: the art exhibition must continue! РFrom day one, local artists Robert Piersanti, Lawrence Ciarallo, Distort and Qassim Mu̱oz have offered to support us by displaying their art on our walls and a beautiful mural on the front of the restaurant. This show is for them and for all the local artists who are always there for the community. The art exhibition must continue!
Triangle Park Community Center: Viva Greenville! – Featuring the work of two Jersey City natives; Susana Martin & Maria Lupuanez! Exposing the inner beauty of our people and our community, Viva Greenville demonstrates that we are resilient in the midst of all that is happening in our world … Let's Keep On Living !!
Project Greenville: Winter Wonderland Weekend – Join us Friday and Saturday for one of our favorite community art events, Winter Wonderland Weekend! Featuring winter and holiday art – of all kinds – by local artists … refreshments, holiday cheer and a comfortable way to start the season in Greenville! Bring a new or slightly used toy for our donation bin 🙂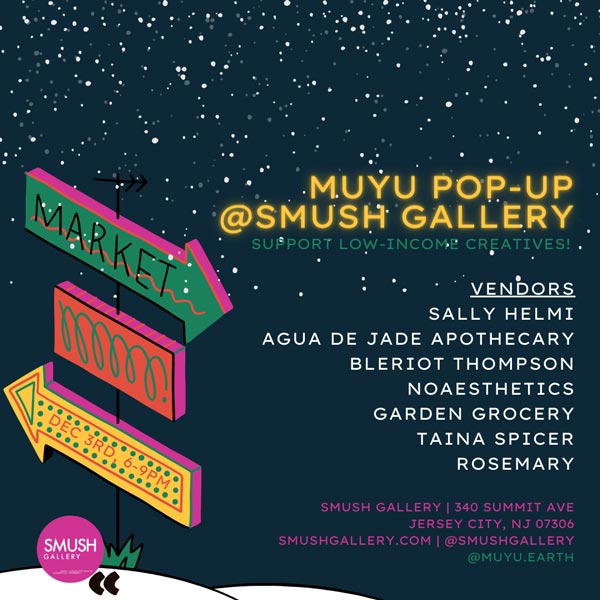 MUYU market at the SMUSH gallery – Join MUYU, a local cultural incubator for low-income creatives, for a holiday market at the SMUSH gallery! Artist-sellers include Rosemary, Sally Helmi, Bleriot Thompson, Agua de Jade Apothecary, noaesthetics, Garden Grocery and Taina Spicer. MUYU is relaunching online this winter – catch them in person this JC Friday!
Outlander Gallery: 'The Maiden and the Old Woman' – A multimedia experiential solo exhibition by artist Christy E. O'Connor
Team's collection of wilderness photographs – The Team Wilderness Photography Club gives local teens the opportunity to develop professional photography skills while embarking on nature trips. This will be the first peak of their nascent skills.
University of New Jersey City Galleries: Wonder Women Artist Lecture: Health and Art in a Global Pandemic – Join us for our free virtual artist talk, or stop by the galleries in person to see our exhibits! Virtual art lecture by four artists from the Visual Arts Gallery's current exhibition, Wonder Women 12: A Health Survey. Pollie Barden, Doris Caçoilo, Christine DaCruz and Sharon Lee DeLa Cruz
Ben Fine: Open Artist Workshop – Artist Ben Fine will be opening his studio for a holiday sale – offering limited edition framed prints of his cityscapes. These cityscapes were painted from a fourth floor window overlooking a corner of Hamilton Park during the 2020 lockdown.
Project NOW Space for the Arts: full of hope – NOW Project Space for the Arts welcomes artist Charlie Hewitt to the promenade in front of the public art windows. The NPSA welcomes Vikki Michalios in the promenade through the windows of public works.
Advertise with New Jersey Stage for $ 50 to $ 100 per month, click here for more information
---
Art150: Holiday Market & Open Workshops – Art150 will feature an extensive art exhibit for $ 250 or less, along with other original artwork available at over 50 artist studios (including Paul Wirhun / Eggman and m.gluck). The artists of Art150 include painters, photographers, sculptors and mixed media artists. The Art150 space also includes the Pro Arts Gallery, which will host art vendors during JC Fridays, as well as the Art House Gallery, which will feature its very affordable art exhibit.
Galerie Art House Productions: the very affordable art exhibition – "The Very Affordable Art Show" includes works of art all priced at $ 250 and under. Showcasing pieces with freebies in mind, all of the works are affordably priced for the holiday season. The works include paintings, small sculptures, handmade gifts and more!
Theda Sandiford Art: Free Your Mind: Social Justice Public Art Project – Free Your Mind is a collection of personal stories. Participants are invited to write an experience of micro-aggression on a ribbon, then tie the ribbon to a net, to free this story from their personal narrative. Later, artist Theda Sandiford will weave the ribbons of the story into a protective blanket.
Pro Arts Holiday Bazaar at ART150 – A Holiday Bazaar at ART150 featuring local artisans, craftspeople and artists, just in time for the holiday season. With goodies and giveaways on sale when the season kicks off, this event is not to be missed!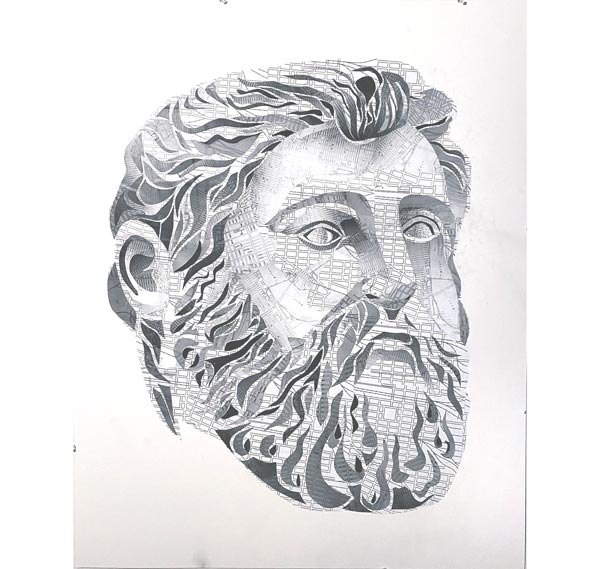 Dvora Pop-Up Gallery: Scot J. Wittman: Solo exhibition – Dvora Gallery presents Scot J. Wittman's digital map collages. Wittman meticulously redraws digital maps of historic places around the world, then cuts and reshapes the prints into classic and legendary portraits and whimsical figures.
175 2nd Street: The artistic project – Visit 14 floors of solo artists' salons by artists from the region! Produced by Drawing Rooms and Shuster Management.
Saint-Pierre University Gallery of Fine Arts: Interior exterior: Paintings by Jennifer Krause Chapeau and Linda Streicher – In a complex world, Inside Outside explores the dualities of interior and exterior space. It is possible to live and see this space at the same time. This is where the magic begins. How does our perception change as we pass through it? Where do these worlds meet and intersect?
SILVERMAN and Majestic Theater Condominiums present: Weirdness, Ghosts and Forgotten Goddesses with Stephanie Guillen – Organized by: Kristin J. DeAngelis
SILVERMAN and Hamilton Square condominiums feature: BODY LANGUAGE By: OCCIPITAL – An exhibition exploring how emotion unconsciously translates into body language.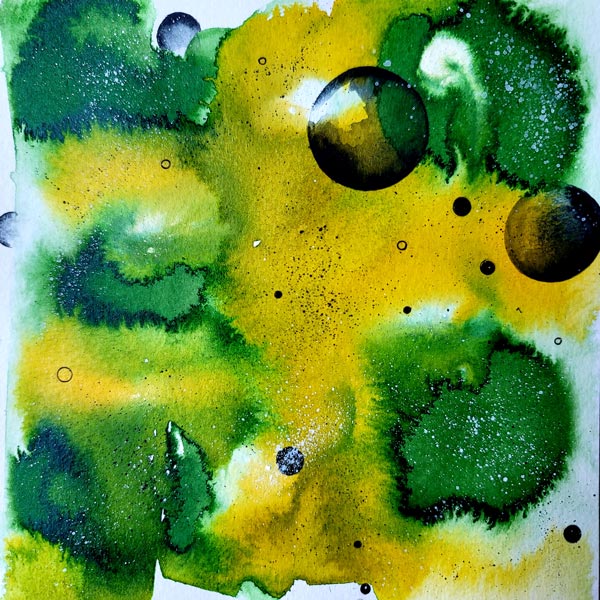 CMPND x Nachalie Rodriguez: Circle of Life Series – We will be hosting an exhibition for artist Nachalie Rodriguez as she presents her Circle of Life series. Join us on December 3 at 97 Newkirk Street. Viewing will take place on the third floor in the coworking lounge.
Art House Productions is generously supported by the New Jersey State Council on the Arts, SILVERMAN, the Princeton Foundation, the New Jersey Theater Alliance, the Hudson County Office of Cultural Affairs, and the Alliance of Resident Theaters / New York.
Art house productions is a 501 (c) (3) non-profit organization engaged in the development and presentation of the performing and visual arts in Jersey City, NJ. Art House Productions features theater, performing and visual arts festivals, art events, visual art exhibitions, and art classes for adults and youth.
IMAGES: (TOP) The Green Resort by Stephanie Guillien (MIDDLE) Neptune by Scot Wittman (BOTTOM) CMPND x by Nachalie Rodriguez