Choirs reflect on social justice issues at final concert – The North Wind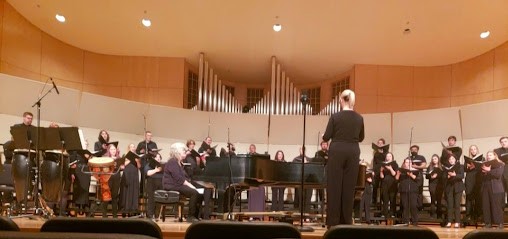 The Northern Michigan University Choir performed their final concert of the winter semester, A Celebration of Renewal and Rebirth, on Thursday, April 21 at Reynolds Recital Hall at 7:30 p.m. The Arts Choir and the University Choir came together to bid farewell to their elderly graduates and enveloped the crowd in a variety of songs, including one that was an in-person world premiere.
"I tried to program music that had a sense of renewal or rebirth," said choir director and associate professor of music Erin Colwitz. "With COVID and such over the past two years, I felt this gig had more of a connection to what's happening in our own communities."
Colwitz tried to select music by composers of color, especially women of color, and songs with social justice themes.
Colwitz said her students at The University Choir really enjoyed "Wanting Memories" by Ysaye Barnwell, a black composer, because many of them have struggled with loss over the past two years, for a variety of reasons. She believes the recent increase in suicides has affected many of her students as well.
One of the lines in this piece that stood out to Colwitz was the main line of the chorus: "And I sit here, wanting memories to teach me to see the beauty of the world through my own eyes."
The students of The Arts Chorale continued with another beautiful piece, "Festival Te Deum" by Benjamin Britten, as well as "To be a Stranger" by their guest and composer, Eric Banks.
Colwitz describes this last piece as having been commissioned by a Chinese-American friend of Banks. who wanted singers and poets to be people of color from the start. This piece was created right after the murder of George Floyd and writers such as Frederick Douglass inspired Banks. Dorothy West, a black author, also contributed composition. Banks used his text for the very first line of the piece, "Identity is not inherent, it is shaped by circumstance and sensibility", according to Colwitz.
"The choir and I had many wonderful conversations about the text and what it means," she said.
One line they spoke about in particular was "Choose confrontation wisely, but when it's your time, don't be afraid to stand up, speak up and speak out against injustice".
They discussed the themes of social justice and bravery found in this line and "To be a Stranger" as a whole.
"This [line] particularly struck us," Colwitz said. "We realized that we all have work to do."
Colwitz talked about creating a tradition at NMU, singing "The Road Home" by Stephen Paulus at the end of every concert.
"I always tell students that I hope they will always feel like NMU is 'home', and no matter where they go, they can have a home," she said.
The difference between The University Choir and The Arts Chorale is that The University Choir is much less rigorous in terms of commitment, Colwitz said. They both require auditions, but The Arts Chorale is heavily auditioned, has around 24 singers, rehearses more often and with more challenging music. They usually do about two gigs per semester but also travel a lot.
They have about 6 to 7 weeks to prepare for each concert, she said.
"I've sung in choirs for most of my life," said senior music major Andy Vanwelsenaers.
Vanwelsenaers was the bass section leader of The Arts Chorale, which involves extra rehearsals with his section at least once a week and offers extra help learning the music if his section needs it.
Vanwelsenaers plans to take a one-semester or one-year break after graduation, before going to graduate school.
"What I love and what I will miss most about the choir is the community I was part of," he said. "I love the creative aspect of music, but that creativity is more fun when you do it with people you love being with."
Vanwelsenaers talks about their two favorite pieces they performed. The first being the live world premiere of Eric Banks' "To be a Stranger", which he said was particularly powerful for its anti-police violence, Black Lives Matter and egalitarian messages.
The second piece, "Make Our Garden Grow", by Leonard Bernstein was special for Vanwelsenaers for more personal reasons.
"[The song] is about us humans being neither right nor wrong, but just doing our best – something I had to learn while navigating professional and personal relationships in college," Vanwelsenaers said.
He reflected on his semester in the department after COVID-19 and the difficulties of the procedures they went through, like rehearsing six feet apart and struggling to get along. However, he acknowledges that they have been lucky compared to other universities whose choir programs have been forced to meet entirely online.
"I think the arts have been both the most neglected thing and the most needed thing during the pandemic," he said. "Ultimately, COVID has taught us all to be more flexible and empathetic as co-workers and human beings."