Con Brio String Orchestra prioritizes inclusivity for non-musical students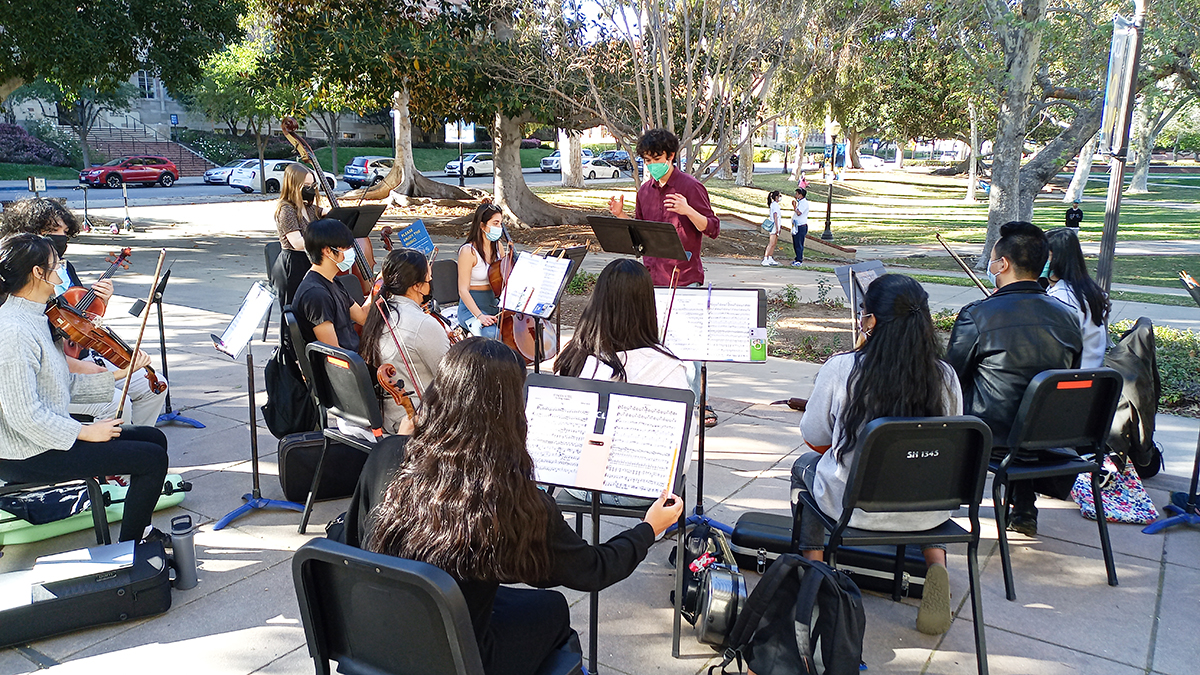 Con Brio String Orchestra brings inclusivity to the UCLA music scene.
Over the past year, CBSO has since grown to encompass nearly 20 members as they prepare to host their first spring concert on Sunday. The band began when third-year microbiology, immunology, and molecular genetics student Yuri Lin first arrived at UCLA, only to find a lack of opportunities for non-musical students on campus to join a band. orchestra. To change that, Lin said she created CBSO, a student-run string orchestra made up of non-musician students, in hopes of making orchestral music more accessible at UCLA.
"I was really looking for a string orchestra community because in high school my closest circle of friends were all in the orchestra, and it was hard to find the same in college," said Linen.
A violinist, Lin said she started conceptualizing CBSO at the end of her freshman year, but put her plans on hold due to the pandemic. She said she then joined a wind chamber ensemble, in which two of her friends from the ensemble helped her form CBSO, whose name pays homage to Lin's middle school orchestra. Although her middle school orchestra teacher was very strict with Lin and her peers, Lin said her instructor had a positive impact in create a close-knit community while encouraging students to give their best.
[Related: Joe's Oasis to bring new rhythm to UCLA campus lunchtimes]
In order to make CBSO a reality, Lin said she started promoting the orchestra in late summer 2021, using various social media platforms like Reddit and Facebook as well as word of mouth to recruit people. members. For auditions, Lin said she made sure the process had a taped-in option to help relieve stress for contestants who might have been nervous about an in-person audition.
Spencer Gouw, a third-year computer science student, said CBSO serves as a supportive community for musicians, granting members greater creative freedom due to its student-led nature. A conductor and student composer, Gouw said he first joined CBSO after seeing a post announcing the orchestra on Reddit, where he contacted Lin to ask if the orchestra would be willing to play songs. works composed by students.
As one of the two conductors of the performance, Gouw said he will conduct the second half of the concert. He said the orchestra will play four pieces, beginning with "St. Paul's Suite" and ending with Benjamin Britten's "Simple Symphony." Gouw said he will also conduct an original arrangement of "A Town With An Ocean View" from the 1989 Studio Ghibli film "Kiki's Delivery Service," which the band will perform after intermission. Selections for the performance were based on player interests and skill levels, as Gouw said they also held a poll where members could choose which scores they wanted to play.
For rehearsals, Lin said the orchestra has been preparing for the concert since the middle of the winter term. Each player comes from a variety of musical backgrounds, she said, with most accumulating their experience playing in their high school orchestra. However, some of the challenges in preparing for the concert revolve around the lack of available spaces to practice on campus, Lin said, which forced them to rehearse weekly at different locations.
[Related: Student orchestra to share music of Studio Ghibli in performance at UCLA]
In addition to providing a space where people can listen to music, second-year public affairs student Zephania Hartojo said she hopes to foster a sense of community among members as the ensemble's internal director. Indeed, Hartojo, a violist, said many members had lost the opportunity to perform with other musicians during the pandemic. In a community-building moment during their first rehearsal at Schoenberg Terrace, Hartojo said many families strolled outside when the kids stopped to watch them play together.
"It was one of my favorite moments because we're doing something special," Hartojo said. "Being able to feel that joy of making music with people, for people, is very special."
In the future, Lin hopes to make orchestral music. more accessible at UCLA by increase the number of CBSO members and encourage the participation of current members, she said. To increase their presence on campus, Lin said CBSO will be offering free performances so anyone in the UCLA community can come and watch. With their upcoming free spring concert, Lin said she was excited to share their efforts with an audience for the first time.
"I'm really looking forward to sharing our hard work," Lin said. "I'm just really proud that we managed to put it all together, and I want to share that with everyone."