Sensory music pod installed in the Children's Village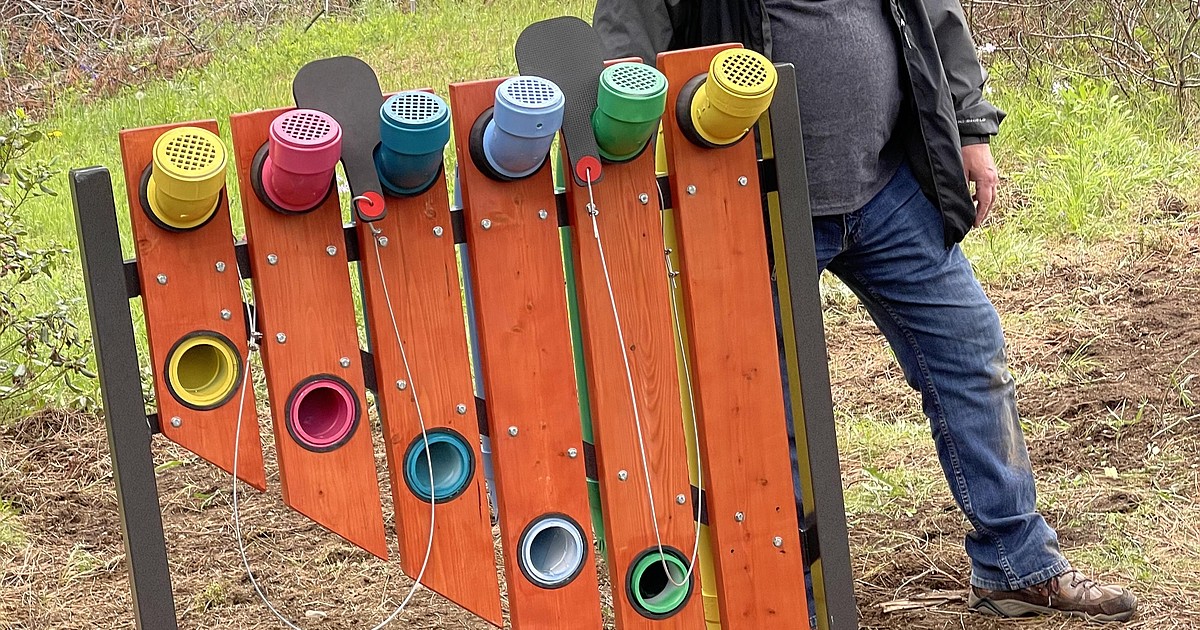 COEUR d'ALENE – The first sensory capsule of the Children's Village sensory park was installed on Friday with the help of around thirty volunteers from Gizmo-CDA, Mountain West Bank and Rotary Coeur d'Alene.
Children's Village serves children facing crisis situations and operates multiple residences on its 14-acre property. The children served are often fleeing a traumatic family situation, or situations of abuse, neglect or drug problems.
The park plan has been in the works for several years, said Bekah Johnson, director of community relations for Mountain West Bank.
Johnson helped come up with the idea for a sensory music module after attending the Coeur d'Alene Chamber of Commerce Leadership Academy in 2020.
She said that after losing her husband to cancer eight years ago, her child was very sensitive and the sensory activities were very helpful. This understanding inspired her to help create similar modules in Kootenai County.
"We find in our schools that children have sensory needs, so Mountain West Bank is looking to build sensory rooms for children in our community," Johnson said. "We're going to start with the most vulnerable population, which is right here."
Sensory rooms are being used therapeutically with great success, Johnson said.
"We try to trick the kids into thinking it's fun and playful, but what's really happening is Children's Village is bringing their therapists and bringing their kids here and it's therapy," said Johnson. "And it's magic, absolute magic."
Johnson approached Gizmo to build musical instruments. Eventually, there will be many sensory modules throughout the park.
Volunteers worked in the rain to set up xylophones, a speaker phone that transmits sound through a 100-foot pipe to a phone at the other end, an aerophone and a set of water lily drums.
"They need things like that to get over the trauma," said Emily Aizawa, development manager at the children's village. "Things like that help them regulate their emotions. To regulate the great feelings they have.
The Idaho Forest Group is also sponsoring a module, Aizawa said. This will be a wood-themed experience for the kids. They expect this module to be installed this summer.
"Going forward, we want the whole area to be filled with different modules," Aizawa said. "Whether in water or to the touch. All different things. Kids can go out and just experiment and get away from these things in their heads.
Mat Lanigan, with Mountain West Bank, happens to be married to Erin Lanigan, executive director of Gizmo, which made the collaboration special for them. Mat was the project manager for Friday's installation project.
Last summer, Gizmo hosted a summer camp, and about a dozen camp attendees designed and built the instruments, Erin said. Deming Industries of Coeur d'Alene anodized the metal, producing various vibrant colors. Lake City Powder Coating handled all the bases for the instruments, she said. Gizmo had prepared the cement blocks for the instruments and dug the trench for the loudspeaker in advance, so the rest of the installation could be done in a day.
Residents of the Children's Village know something is being installed, but it will come as a surprise to them, Aizawa said. The kids are really excited, she says.
"Kids can just be in nature and play with the music and hear those soothing sounds," Aizawa said. "It's definitely going to help them. I'm sure it's going to be a little chaotic at times. It's not easy being in a group home, so it's exciting when they can experience things like that.