Student band "Holding Hemlock" perform solo show at Marty's – Luther College Chips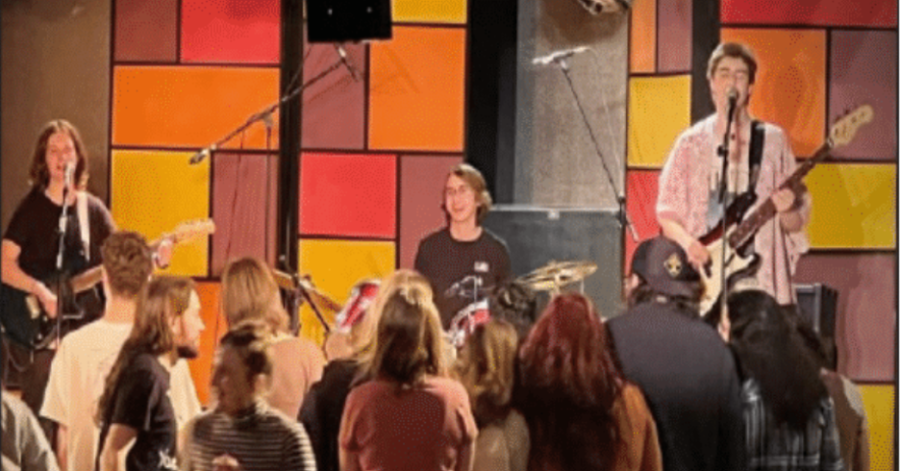 Marty's, a place known to be a good place for afternoon and evening study, was not the place to effectively finish senior projects or Paideia articles last Saturday night. The bass boomed and the crowd danced as one of Luther's student bands took the stage.
On April 30, three-piece student band Holding Hemlock performed to a crowd of their peers on Marty's Stage. The band consists of vocalist and lead guitarist Spencer Cameron ('24), drummer Micah Miller ('23) and bassist Jack Kates ('24). During the 60-minute set, the trio performed a mix of original songs and covers, such as "Are You Gonna Be My Girl" by Australian rock band Jet.
As the clock struck 8:00 a.m., Cameron took the stage with his guitar to kick off the concert. Kates joined Cameron for the second song, with Miller completing the trio for the third and subsequent songs. Between original compositions, Kates informed the audience about her songwriting inspirations, such as the recent birth of a friend's son, the animated show "BoJack Horseman" and treasured friendships. Throughout the set, the trio frequently interacted with the audience, joked with the soundboard technician, and urged the audience to energetically welcome Kates' parents, who were in attendance.
Cameron, Kates and Miller were introduced to each other by Cameron's roommate Siobhan Dunn ('24), a mutual friend of the three. The trio started making music this past term after connecting with bands like My Chemical Romance and Maximum the Hormone. However, there was no defining moment which the trio refer to as the start of "Holding Hemlock".
"There was no 'we're gonna be a band now, I declare it,' you know what I mean," Kates said. "It kind of just happened."
While Holding Hemlock's sound is largely based on alternative rock, they also drew inspiration from hard rock and folk genres during their set. Apart from their mix of genres, their main arrangement of instruments is also unique. The majority of the ensemble featured Cameron on vocals, Miller on drums, and Kates on bass.
"Most of the stuff we've written collectively as a band definitely sounds more like rock or hard rock," Miller said. "It's also interesting because this stuff, the hardest stuff we have, is just bass and drums and vocals, which I don't think is a super mainstream sound. ."
With classical music being prevalent on campus due to the presence of many different ensembles, this variety is a welcome change of pace. Olivia Gustafson ('25) heard about Holding Hemlock from a friend and attended the concert. As a member of the Luther College Philharmonia, Gustafson emphasizes the importance of diversity in the Luther music scene.
"I think it's just a nice strain," Gustafson said. "Classical music is good, but you have to have a kind of variety; if not, it becomes a bit the same old, the same old [and] somehow boring.
To further develop the Luther music scene, Holding Hemlock advises interested musicians to contact one of the staff at KWLC Radio. Located in the basement of the Dahl Centennial Union, KWLC has a recording studio and other resources available to students. As Next Year's Recording Studio Technician, Cameron says direct messaging the KWLC Instagram account (@kwlc1240) is an effective way for students to access these resources.
"I feel like the more populated this space can be, the bigger the music scene will be here," Cameron said. "I think a lot of people don't know you can record there. I'm going to work there and do that next year.
At this time, Hemlock Holding has no plans for future performances, but they are interested in exploring opportunities at this summer's Nordic Fest.