VPA graduate paves the way for development of his first feature film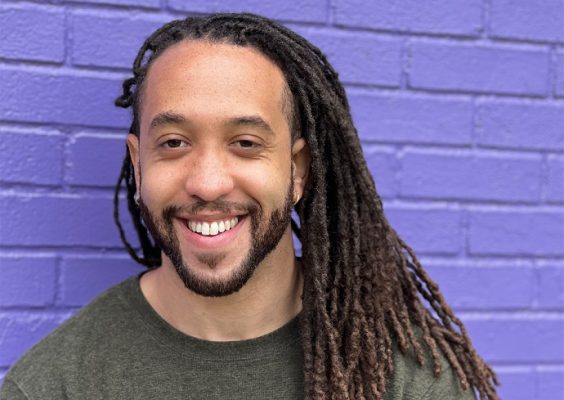 Carlton Daniel Jr. G'16 fell in love with movies at an early age. Growing up in Ohio, he spent much of his childhood at the local movies, browsing videos on Blockbuster and dissecting movies with his family. His passion for cinema led him on a trajectory from writing and directing short films to developing his first feature film.
After completing a bachelor's degree at Ohio University, he applied to the College of Visual and Performing Arts. Syracuse reminded him a lot of his hometown of Cleveland. He saw this small-town community as a place that would nurture his artistic voice as well as his roots in Ohio. Daniel chose the MFA film program because it offered him a flexible environment to hone his craft as a writer and director.
"I really admired the interdisciplinary approach offered at Syracuse. I was able to study disciplines outside of film that informed my storytelling, which I think really made me a better screenwriter and director," he says.
His thesis film and 2017 directorial debut, "Monogamish," explores identity, love, and relationships as an openly gay black man through narrative cinema. The film was screened at more than 20 national and international festivals.
"I arrived in Syracuse just a few months after filming Treyvon Martin. The classes I took in the African American Studies department while learning about the history of Rust Belt cities like Cleveland and Syracuse were really eye opening," says Daniel. "Understanding how population shifts and institutionalized racism like redlining have influenced my communities, and learning from Associate Professor Kishi Ducré about the effects of residential segregation has inspired me to use storytelling to address some of these issues."
"Syracuse was the base for me to really find my voice, who I am as an artist and the things I want to say to the world. It all started here," he recounts.
These studies informed his second short film, "Homegoing", completed in 2020, which centers on the story of the son of an undertaker balancing the difficulties of hypermasculinity, wealth disparities and the daily realities of black life in America. The short won Central New York's first short film competition, raising $40,000 to make the project, which was shot entirely in Syracuse with local cast and crew. The film has since won spots at highly competitive film festivals across North America, including the American Black Film Festival, Outfest LA, and Palm Springs Short Fest.
Most recently, Daniel wrote, directed and co-produced a horror film for 20th Digital Studio, "Rebecca", which is currently airing on season two of "Bite Size Halloween" on Hulu.
"I want to continue writing and directing films and creating opportunities for members of underrepresented communities to have access to film sets to learn more about the different opportunities that come with filmmaking," says Daniel. "There are so many jobs on set that people don't even know about. I want to be able to give back to Syracuse and Cleveland so young people can also feel empowered to make movies and tell their own stories.
Ultimately, Daniel wants to be an agent of change: "If you can't see different perspectives, if you can't see different worlds, different characters and people from all experiences and walks of life, how can we ever understand and understand our humanity? How to fight for a better future? It's part of my mission to make things better for the next generation.
This spring, Daniel wrote and directed a short film in partnership with CNY Film Professionals' inaugural youth program, "Call Time," aimed at directing inner-city black and brown youth to jobs in the downtown film industry. from New York.
Now Daniel is developing "Homegoing" into a feature film with his creative partner, Evan Starling-Davis G'20. The script for the short and feature film was inspired by her experiences growing up in the Rust Belt.
"After graduating from Syracuse, I temporarily returned home to Cleveland and started working at a funeral home. It was just a job to earn money, but I was so moved and inspired by the family who owned it and the community I met every day as they came to mourn their loved ones. I was shocked to see how much love, joy and community there was in this space. I was just interested in these little slices of life and wanted to make it something sincere and personal," says Daniel.
Daniel draws on his own experiences, overheard conversations, and conversations with his late grandmother that he recorded while back home. "I take those things and turn them into notes and journal entries and do character descriptions and arcs and plots.
"I force myself to do it because I feel like if it's uncomfortable for me to talk about it, it's probably going to be helpful to someone else – something other people can relate to. . I really push myself out of my comfort zone when I write and talk about things that aren't easy. It's not even always serious, sometimes even comedic moments that come from really tough places.
"The main character of 'Homegoing' is haunted by nightmares and returns home from college to his family's funeral home to save his grip on reality. In the process, he reconnects with his grandmother, learning more about the business, while learning about his family history, identity, and how the family migrated from the south to Cleveland in the 1940s. The main character begins to realize that there are larger forces – spirituality – at stake to keep him at home. In doing so, he must reconcile with his family, his community and the man he loves.
Daniel's screenplay was selected for the Outfest screenwriting lab in Los Angeles. "I spent two weeks with screenwriters and film industry executives, getting feedback on the script and mentoring from professionals," Daniel explains. Shortly after, the script was selected for the Tribeca Film Festival's Untold Stories grant competition, where it ranked among the top five projects, winning $10,000 in Constellation Prizes. "Homegoing" has since reached the final round of consideration for other incubation programs, including the Sundance Creative Producing Lab and the Sundance Development Track.
Daniel is currently in the casting process and is seeking funding from private investors for the development of "Homegoing". As a promising young graduate from Syracuse University, he is also looking to build his network and support from the alumni community.
As a filmmaker, Daniel tries to tackle issues that are important for the next generation. "It's really moving when I get feedback from other people, especially other young people, who just felt moved or inspired by something I wrote or directed. Being an artist is really powerful in that sense. Filmmakers reach such a wide range of audiences. I hope my movies and the stories I tell will leave a small mark on the world and make things a little bit better for the next generation and for my community.
Contact Daniel and discover his work via his website.